Are you shopping around for a new doctor blade to use in your ink or coating system utilizing a ceramic anilox roller? If so, you have come to the right place. DuroBlade®, the world's longest lasting doctor blade, is the optimal solution for highly abrasive printing, varnishing, and coating systems used in flexographic printing processes.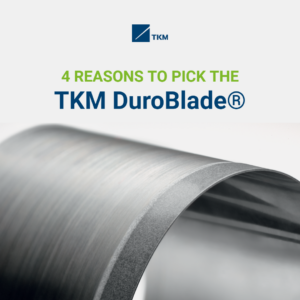 Here are the top four reasons why you will want to pick the DuroBlade®:
Reduces Cost
DuroBlade® is a cost-effective solution because it is designed to last. Our patented manufacturing process creates a ceramic barrier on our high-quality steel blade creating a long-lasting and clean metering blade. The best doctor blade is the one you do not have to think about! Another way you save money is by cutting down on printing costs. With DuroBlade®, you will get a consistent and predictable wipe when paired with the right anilox, chamber and end-seal combination.
Avoids Score Lines
Score lines in the flexography process are caused when foreign particles become trapped between the anilox and doctor blade causing them to damage the cell walls. The DuroBlade's® ceramic coating is designed to wear at a very slow rate of degradation. This allows for a particle free inking system that protects your anilox roll inventory.
Ultra-Precise Coating and Ink Thickness
DuroBlade® is the first choice for abrasive inks and coatings because it guarantees consistently high precision coating and ink thickness due to its long-life. The patented ceramic coating ensures uniform print quality with an incredibly low dot gain.
Lower Blade Pressure
DuroBlade® is designed to be used at lower blade pressure than other doctor blades on the market. The lower blade pressure reduces the friction coefficient which can cause anilox surface deformation and chamber warping over time. This benefit helps to increase the lifespan of your inking system, improving your return on investment!
DuroBlade® Detailed Dimensions
DuroBlade® is available in a wide variety of sizes to fit your specific needs. TKM DuroBlade's® are also available in the TKM DuroBlade® HL version for using anilox rollers with low cell volumes and high line screen anilox rolls.
Contact TKM for Your Premium DuroBlade® Solution Today
When it comes to finding the right doctor blade, there is no need to look any further than the superior DuroBlade®, the world's longest lasting doctor blade. With its many benefits, it is the perfect choice for flexographic printing and coating. Contact us today to learn more about how DuroBlade® can help you achieve success in your printing process. We are here to help you get the best results and longest possible lifetime.