The World's Most Effective Anilox Roller Cleaner
Removes all common ink types (solvent-based, water-based and UV)

Physical detachment – instead of chemical dissolution

Protective deep cleaning with anilox rollers

Biodegradable, pH-neutral

Suitable for 95% of all applications in the printing sector

Recommended by the BG ETEM
Download Our enpurex® Brochure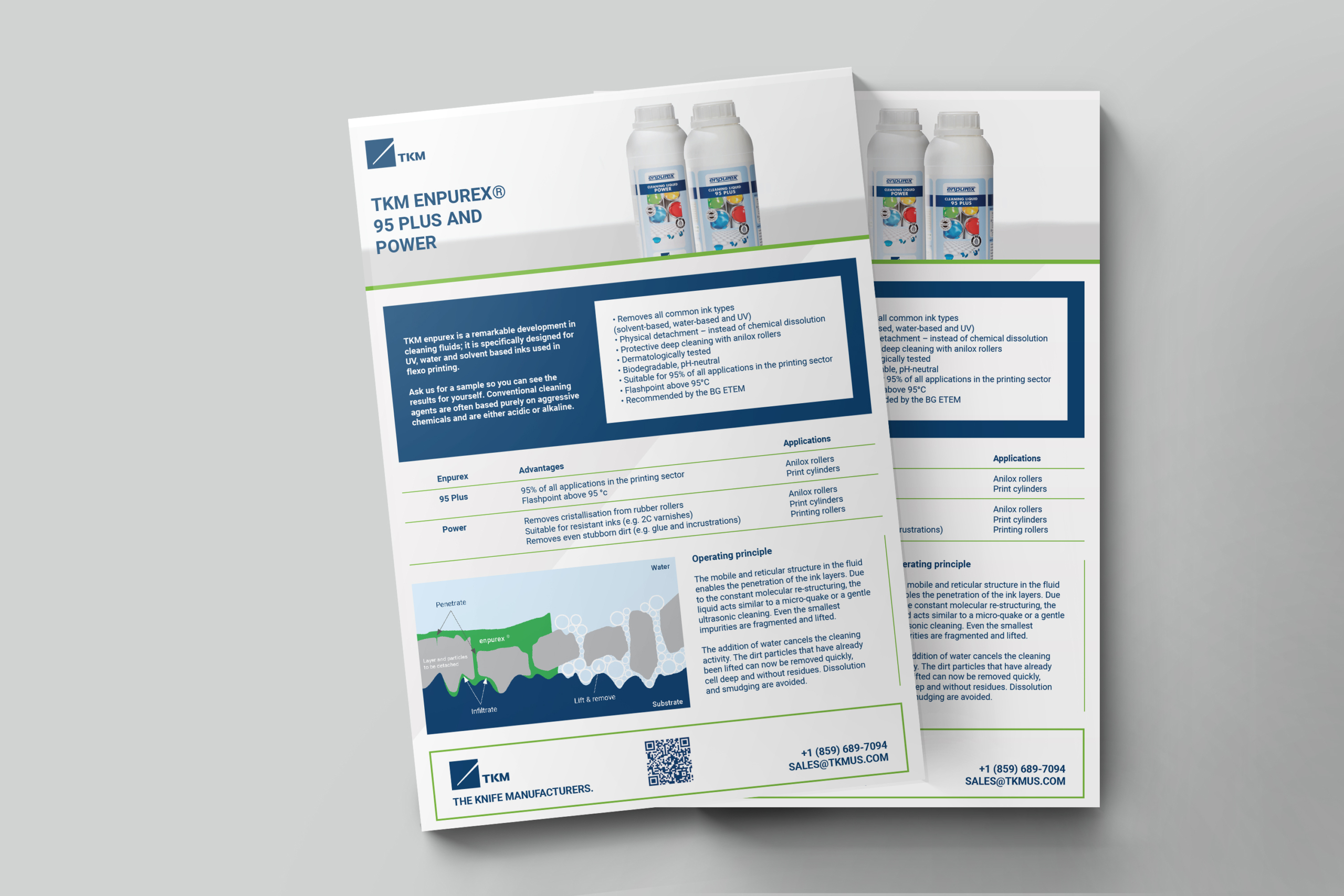 Download our new enpurex® Brochure! This brochure provides valuable insights on the world's most effective anilox roller cleaner including technical specs, product features, and more.
Fill out the form and we'll send the download to your inbox!
About TKM enpurex® 95 Plus & Power
TKM enpurex is a remarkable development in cleaning fluids; it is specifically designed for the printing sector (e.g. anilox rollers, print cylinders and printing rollers). Conventional cleaning agents are often based purely on aggressive chemicals and are either acidic or alkaline.
This water-soluble cleaner contains no aggressive chemicals and is based on highly effective physical effects that create wholly new product attributes.
Operating principle
The mobile and reticular structure in the fluid enables the penetration of the ink layers. Due to the constant molecular re-structuring , the liquid acts similar to a micro-quake or a gentle ultrasonic cleaning. Even the smallest impurities are fragmented and lifted.
The addition of water cancels the cleaning activity. The dirt particles that have already been lifted can now be removed quickly, cell deep and without residues. Dissolution and smudging are avoided.
* German Employer's Cooperative for energy,
textiles, electrical systems and media products
We highly recommend our ph-neutral and biodegradable enpurex cleaning agent for effectively cleaning your ceramic anilox roller and gravure cylinder. To ensure the best results, we have provided a step-by-step demonstration in our instructional video, illustrating the proper application of our cleaning liquids.